Custom Home Design & Build Featured in Spruce Magazine
Yes! Have a look at this article on one of our latest Custom Design Builds in Spruce Magazine! Thanks Lori and Andy for choosing Villamar to build your dream home!
"We wanted to create a house where, as soon as you come through the front door, the view catches you… " – principal designer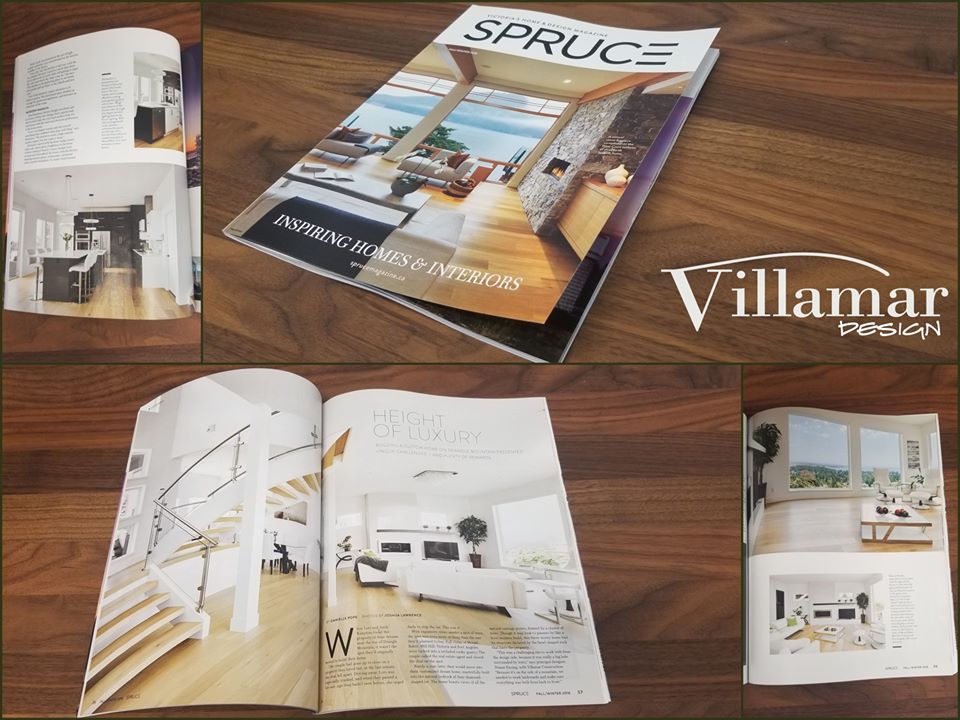 More highlights from the article…
"This was a challenging site to work with from the design side, because it was really a big hole surrounded by trees," says principal designer Duane Ensing, with Villamar Construction. "Because it's on the side of a mountain, we needed to work backwards and make sure everything was built from back to front."

To make sure his vision was a success, Ensing used an open-concept plan with spacious floor-to-ceiling windows, and enough height on every level that even the "basement" suite offers a spectacular outlook…

"We added a lot of animation to this layout because the house is sitting in rock," says Ensing. "So, there's a kink in the building, where part of it sits off by 15 degrees, which gave us a wider panorama and helped us work with the geography."

Three types of siding help blend the house into its location: standing seam metal, Pacific Ashlar ledge stone from K2 Stone and rock posts. Ensing wanted the look to stay modern, but seem like it belonged.

Though the view was paramount, the homeowners also wanted a home that offered a big, beautiful kitchen, expansive bedrooms, bathrooms and closets, with a signature style. Ensing's team pulled it off, with an elegant floating staircase that becomes a focal point inside the home.
You can read the complete article on the Spruce Magazine website.