Victoria's Top Business Leaders Featured in Boulevard Magazine.
"The Influencers" is out – here we are representing a small part of a big TEAM! Thanks for asking us Boulevard Magazine! Special shout out to Sitka clothing for sharing our passion for supporting local, sustainable, quality craftsmanship – and hey, your clothes look as good as our homes!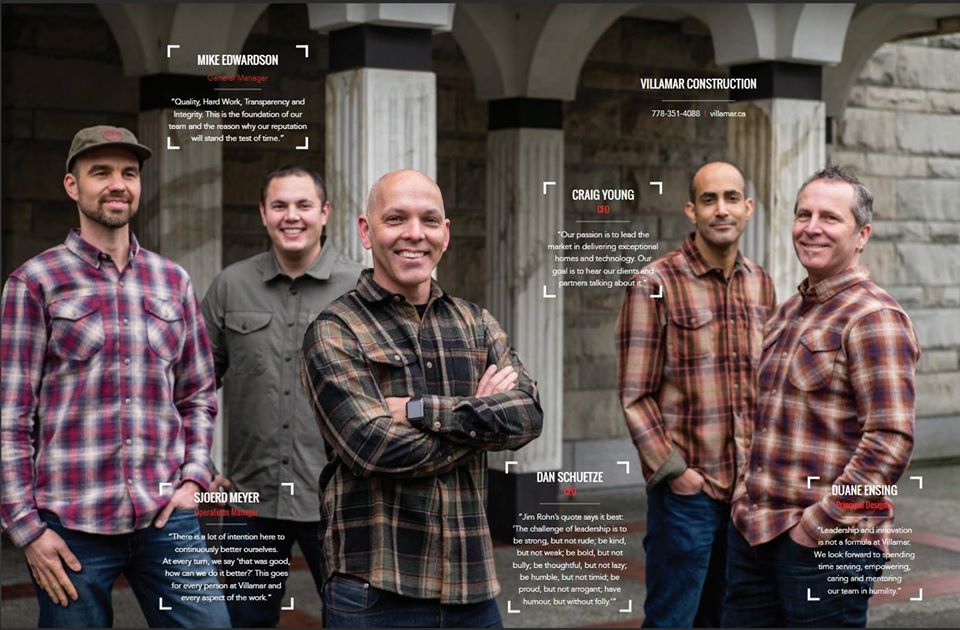 Our business philosophies…
Dan Schuetze – CEO
Jim Rohn's quote says it best – "The challenge of leadership is to be strong, but not rude; be kind, but not weak; be bold, but not bully; be thoughtful, but not lazy; be humble, but not timid; be proud, but not arrogant; have humour, but without folly."
Mike Edwardson – General Manager
Quality, hard work, transparency, and integrity. This is the foundation of our team and the reason why our reputation will stand the test of time.
Duane Ensing – Principal Designer
Leadership and innovation is not a formula at Villamar. We look forward to spending time serving, empowering, caring and mentoring our team in humility.
Sjoerd Meyer – Operations Manager
There is a lot of intention here to continuously better ourselves. At every turn, we say "that was good, how can we do it better?" This goes for every person at Villamar and every aspect of the work.
Craig Young – CFO
Our passion is to lead the market in delivering exceptional homes and technology. Our goal is to hear our clients and partners talking about it.