Choosing a Custom Home Builder Near Me
"Why should I choose a custom home builder?"
This is a question we often get asked.  And while there are many great answers to why a future homeowner should choose a custom home builder, the answers aren't our first response.  We prefer to ask a question before giving an answer.  Most often, the first question we ask is "Tell us more about your project".  This starts a very interesting conversation as everyone loves to talk about their dream home.  We like to follow up our first question by asking another.  The second question we ask is regarding the options being considered for building their new home?
So why do we answer a question by asking a question?
That's easy – the "tell us more" question helps us understand the real reason behind the project.  We learn how the home may be a starter or a forever home.  Perhaps the home needs to be designed for generational living.  Or even, the project may be an investment, a flip, or for revenue purposes.  This helps us to narrow the focus and the direction we would take for the home design and build process.  The second question we ask is equally important.
Misunderstandings are never a good thing.
The reason we ask about the options being considered for building the new home is to learn about how the future homeowner envisions the project proceeding.  The air needs to be cleared long before a shovel hits the ground.  There are many ways to meet the dream of a new custom home.  We'll discuss three of them in this article.  They are:
A spec home and why it may be the right solution.
Being an owner builder and the pitfalls involved.
Going with a custom home builder and how they simplify the build process.
Let's get started by discussing spec homes.
What exactly is a spec home?
The definition of a spec home is a pre-designed home that is mass-produced.  As a result, a spec home will often be less expensive than building a custom home.  A spec home also has much less flexibility in customization.  Due to its lower cost, a spec home will not contain many of the features or extras a client may be dreaming about.  Not to get negative but spec homes are sometimes referred to as "cookie-cutter" homes.
Why would anyone want a spec home?
As unglamorous as they sound, spec homes have an important place in the home building industry.  As mentioned, they are less expensive than a custom home.  For new homeowners, in today's market, this is a great option.  As well, if time is of the essence, a spec home is built much quicker than a custom home.  There are fewer decisions to be made and the home builder can work unimpeded.  Spec homes are the right choice for some homeowners.  What about a future homeowner being their builder?
Becoming an owner-builder requires jumping through hoops.
Many of them.  If someone wants to an owner-builder, in British Columbia, there are two large requirements:
They must meet the requirements set out by the BC Housing Authority.  This includes not hiring someone to manage the home build for them.
They must have completed and passed an exam to verify their knowledge and capability.
Someone with the time may not necessarily have the knowledge to build a new home.  More importantly, even if they do have the knowledge and ability to build a new home, the issue of time trumps all.  They cannot have been a registered builder in the last 18 months.  Also, they may not be able to take a leave from work.  Finally, in a busy construction market, it can also be very challenging to find sub-trades willing to complete construction work on time for someone who is building only a single house.  This brings us to our final point – going with a custom home builder and how they simplify the build process.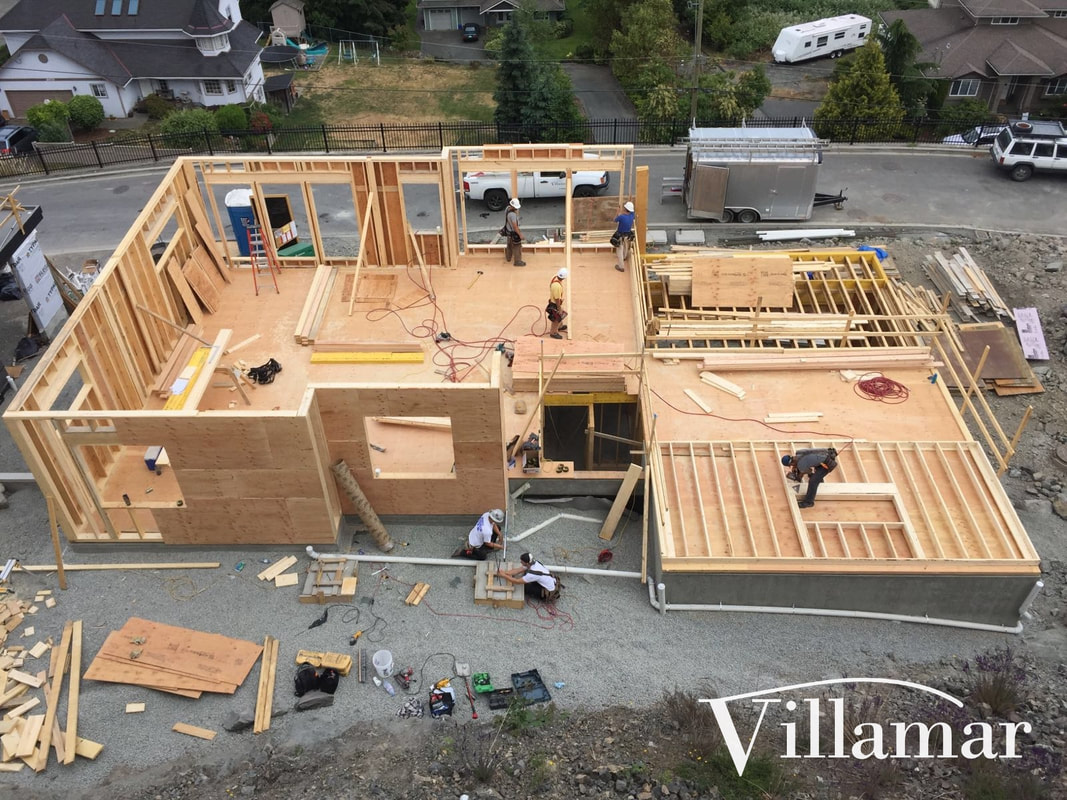 Villamar Construction custom home builder framing a new home.
Custom home builder clients have defined and refined tastes.
A typical Villamar Construction client is someone who is looking for a custom, high-quality home that meets and exceeds building and energy code requirements.  They want a custom home builder that ensures work is constantly moving forward and minimizes delays.  A home builder who competently manages each and every challenge that arises within the process, materials or trades is extremely important.
Being proactive during the build process can't be overlooked.
Custom homeowners deserve guidance and solutions that are of high value.  This isn't just information – it's specific to the purpose for which the home is being built.  At Villamar Construction, we specialize in being involved through the entire home build process.  From the initial design consultation to handing over the keys to a beautiful new custom home.
Our unique approach during the design phase has one big benefit.
It helps identify areas that can optimize the custom home build process.  We'll identify potential challenges with the build at the very beginning.  This approach saves our clients a lot of time and money in upfront costs and ensures that the desired goal will be achieved in the most efficient manner possible.  Yes, a custom home typically costs more than a spec or owner-built home, but there can be significant savings by avoiding unnecessary delays, mistakes, or rework.  Money saved can be put towards upgrades and additional features.
At Villamar Construction, our goal is to make your dream home that much better. There are options when it comes to building a new home.  Not every option is suitable for every homeowner.  Hopefully, this article helped clarify the pros and cons of these three methods:
Spec homes
Owner built homes
Custom home builders
If you would like to know more about what Villamar can offer you and how we can help you achieve your vision, please get in touch with us. We love to answer questions and all of our initial consults are included free of charge. Until then, happy hunting and we look forward to hearing from you.  And remember, at Villamar, we strive to put the "enjoy" in Design. Build. Enjoy.